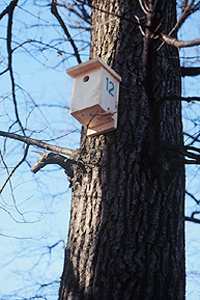 Bo Melin

Nesting-boxes and ornithologistic excursions in the Allén Park, Gothenburg 1996



At the beginning of February 1996 I put up thirty are self-made nesting-boxes of standard construction, with 32 mm holes that attracts birdspecies like Pied Flycatcher, Bluetit and Great tit. During a couple of weekends at the end of May I lead guided tours in the park,so called birdexcursions.During the excursions, we listend to birdcalls, studyd the breeding, drank coffee and generally hade a nice time.It´s about getting together around a rather abstract subject, like birdwatching is for most people. I have been watching birds for several years and was formerly active in the Swedish Ornithologistic Association and the Ornithologistic Association of Gothenburg.

Back to Bo Melin cv.